Discover the TRUE Value of Your Comic Books!

Renegade Collector/Investor Reveals Untold Value Secrets and Sources in this Insider Guide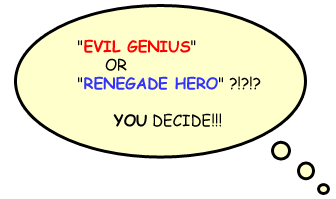 Dear Comic Book Value Seeker,
If you want to cut through the hype and scam artists to discover the true value of your comic books, this may be the most important letter you ever read. You are about to receive the secrets no dealer wants you to know, and nobody else will tell you.
It's really unbelievable to me. I was visiting a well-known collector forum just before writing this letter and there were two stories of knowledgeable collectors attempting to rip-off innocent people trying to sell their comic books! This industry is filled with snakes who are just lying in wait to steal comics at pennies on the dollar.
In the first instance the comic book snake made off with over $15,000 worth of books for two hundred dollars!
I'll get to the second story a little later...
The point is this...
I'm sick and tired of hearing these horror stories ruining the hobby and
I'm going to do something about it!
Read what these fans of Comic Book Secrets have to say:
"You are the nicest dealer I have come across and you are one of the few who has actually gained my trust." Jason Jordan, AZ
"Excellent product!" - R. Zipse, GA
"Awesome job." - Adam Cerniglia, CA
.

Click Here to Place Your Secure Order and Get the Secrets Now
I've been involved in comic book collecting for over 30 years and the two most common questions I'm asked are what are my comic books worth and how do I sell them.
This downloadable book is the packed with step by step secrets, easy to read and use, and EXACTLY what you MUST HAVE to find the true value of your comic books.
Save hours and hours of time scouring the web for information you will never find!
We are all busy individuals. This report will save you time and walk you step-by-step how to value any comic book.
You will instantly receive:
Click Here to Place Your Secure Order and Get the Secrets Now
After you discover the secrets to find the true value of your comic books you'll move on to the second question:
How and Where to Sell your Comics for the Best Price
This brings me to story number two. The second case is an older gentlemen who knew his books were worth something, but relied on a neighbor to be honest with him. The conversation was sickening as the neighbor talked about his lack of funds and asked for suggestions to cherry-pick, lower the price of the collection and misrepresent the value of the comics so they could get a steal. Unfortunately the seller violated the rule you will discover on page 52 in the book!
Discover the pros and cons of where to sell your books
plus the strategies to sell them!
In Part II Comic Book Value and Selling Secrets you will discover:
The 6 places to sell your comic books and why
When and how to sell.
The single biggest mistake made when selling comic books (it was violated in the story above!)
The pitfalls, winning strategies, and how to protect yourself selling on Craigslist
How you can save time and make maximize your profits on E-bay (step-by-step!)
How to protect yourself from the high bidder dealer scam - what it is and how to avoid it
How to avoid losing money on the one book comic book dealers love to get for pennies on the dollar (pg. 51)
Plus, the most Frequently Asked Questions I receive from people just like you with detailed, time and money saving answers
"Great Report! Steps you through the value process in a quick and easy way!"
- M. Ferguson

Click Here to Place Your Secure Order and Get the Secrets Now
Take Action and Protect Yourself Now
If you want to discover the true value of your comic books and how to get the best price, this is the report for you.
For the price of a couple of new comic books off the newstand you can instantly download this important information and protect yourself now.
Sean, Why is the Price So Low?
I've priced this book at a ridiculously low price to help folks out and do my part so I don't have to cringe when I read about someone else getting ripped off. But, let's face it, the Internet is not free and I need to support the website. I make my real money helping serious collectors buy and sell comic books as an investment and I'm not going to prey on the innocent and information seekers.
Also, since this is an instant download book, I don't have printing costs. The savings are passed directly to you!
There are no "bonuses", no "but wait, order now and you get" or any other offers.
The no-nonsense, straight talking, time saving, money saving guide you must have.
Look, you can walk away and it will be your loss. I will probably read about some "steal" online very soon, I just hope it isn't you. But if you want to take the first step and discover the true value of your comic books, click on "Give My the True Comic Value Secrets Now" below to get instant access and download this special report.
You cannot get this information in one easy, step-by-step, honest way anywhere - online or offline
Protect Yourself, Arm Yourself with the Truth, and Save Time and Money
I wish you the best in your comic book value hunt!
Sean Jones
P.S. Be sure to read page 23 to discover the HUGE SECRET that will make you look like a pro and ensure you get the highest prices for your comics!

Yes! Sean, give me access to the Instant Download Book: "Comic Book Secrets Value and Selling Guide." I understand I will receive:
Details and secrets to discover the true value of my comics quickly and easily at home
Time saving tips to discover how to accurately grade and describe my comics
Tips and Techniques to uncover hidden restoration
The step-by-step value example
Tips, Tricks and Pitfalls to sell my comics anywhere - from local dealers, E-bay, Online and Offline Auctions and Websites, all the way to Craigslist - and not get ripped off!
The #1 Biggest Mistake when selling comics and how to avoid it!
How to get the best price for your Treasure and Trash!
Plus much more...
Your order will be taken with secure, online servers, so order with confidence. You may use any major, credit card, Paypal and other methods! Order 24/7 365 Days a Year for Instant Access!



Click Here to Place Your Secure Order and Discover the Secrets to Value and Selling Now


Home - Privacy Policy - Terms of Use - Contact Us - Blog
Copyright 2007: Sky Tech Enterprises/Comic Book Secrets, 6211 Jack Frost Ct., Rocklin, CA 95765